You might be wondering what's the
long bond paper size in pixels
.
As you know, the long bond paper size in inches is
8.5" x 13"
.
8.5" - width
13" - height
But in pixels, there's no fix equivalent size for long bond paper size. The size in pixels depends on the resolution of the document.
The higher the resolution, the bigger size in pixels.
Let's say for example if we use this resolution in photoshop (72 pixels/inch), What could be the equivalent long bond paper size in pixels of
8.5" x 13"
?
Using Photoshop, the equivalent long bond size in pixels is
612 pixels x 936 pixels
:
612 pixels - width
936 pixels - height
How to Set Long Bond Paper Size in Photoshop?
1.
Open your Photoshop, go to
File
and click
New
.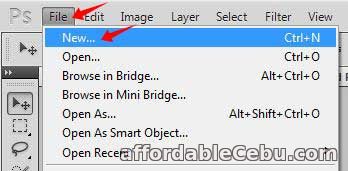 2.
A small window or pop-up box will appear. This is where you set the image/document settings. Set first the
Resolution
to
72 pixels/inch
. Then set the width to
612 pixels
and the height to
936 pixels
.

If you change the pixels into inches, the size will automatically change into 8.5 inches width and 13 inches height.

If you want to save this Long Bond Paper size in pixels settings, just click the Save Preset. Change it's name into Long Bond Paper size. Every time you create a new document/image, you can easily choose the Long Bond Paper size in the Preset.