---
How to Apply China Bank Online Banking
You can now do banking nowadays by just a click of a mouse. The advent of computer technology and internet provides an opportunity for the banks and their accountholders to transact online - which is called online banking. No need to fall in line to pay your utility bills (electric bills, phone or internet bills, cable tv service bills, etc.). No need to go to the bank to transfer money to your love ones. You can do banking online (through internet) at the comfort of your home, office or anywhere and anytime. That's why China Bank (which is one of the top banks of the Philippines) doesn't want to be left behind in utilizing online banking facility. If you want to enroll or apply for China Bank online banking, just follow the procedures below:

Step 1

If you don't have a China Bank account yet, you must open or apply an account. This might help you:

"How to Apply for Chinabank Passbook and ATM Card Savings Account?"

. While applying for a new account, you can also apply for an online banking. Just tell the bank officer that you want to apply for an online banking. You will be automatically enrolled in China Bank's online banking after 1 or 2 weeks.

If you already have a China Bank account and not yet enrolled in online banking, then continue to follow the steps provided here.

Step 2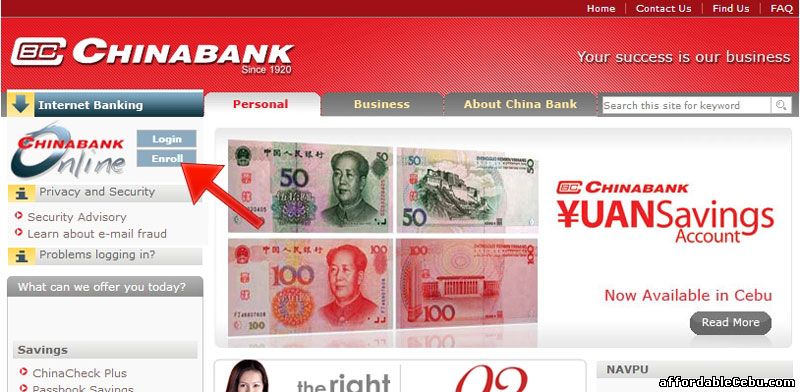 Step 3
You will be redirected to the log-in page of China Bank online banking enrollment/application: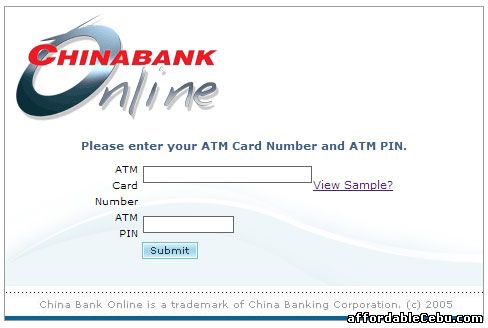 Enter your ATM Card Number and ATM PIN correctly.
Step 4
Click the Agree button to agree with China Bank's Online Banking Terms and Conditions: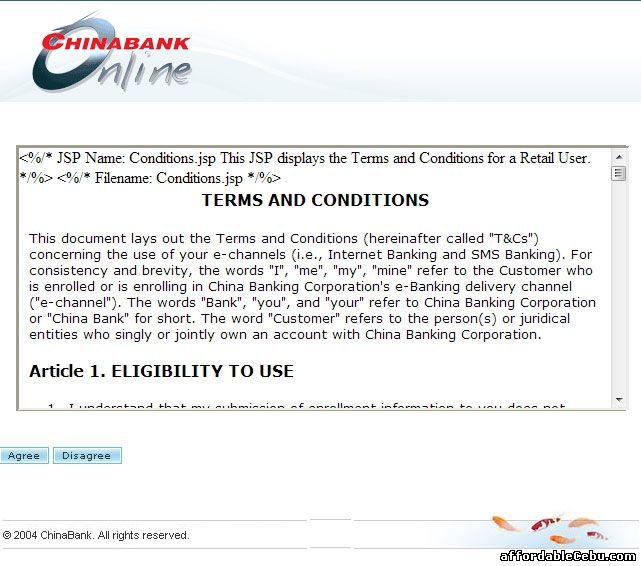 Step 5
Fill-out the enrollment form appropriately: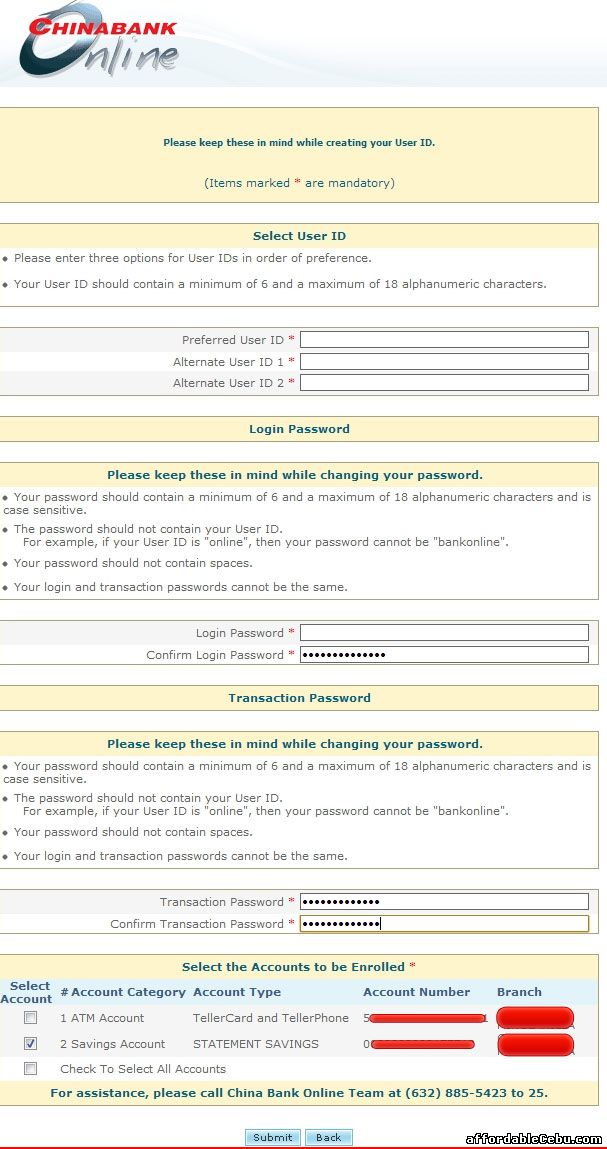 Click the Submit button after filling-out the form.
Follow further instructions and your application will be accepted right away.
Inside China Bank Online Banking Website
With China Bank online banking, you can access your account balance or do balance inquiry for free. You can also transfer funds to other banks and trace your transaction history.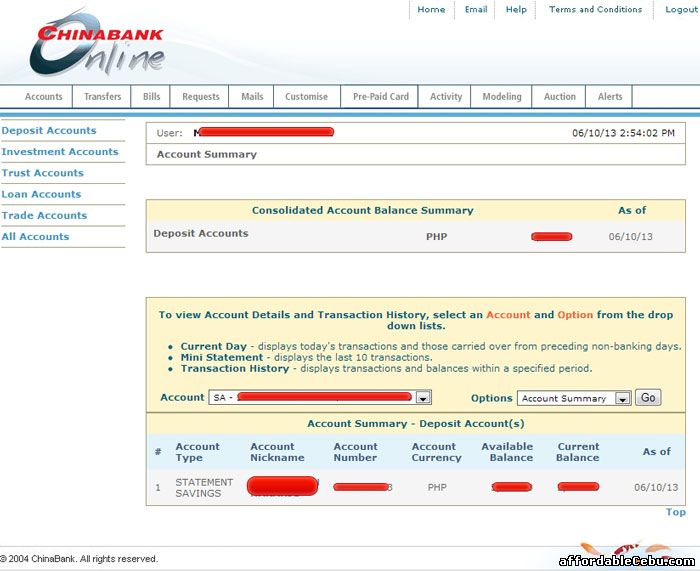 With China Bank online banking, you can pay your bills.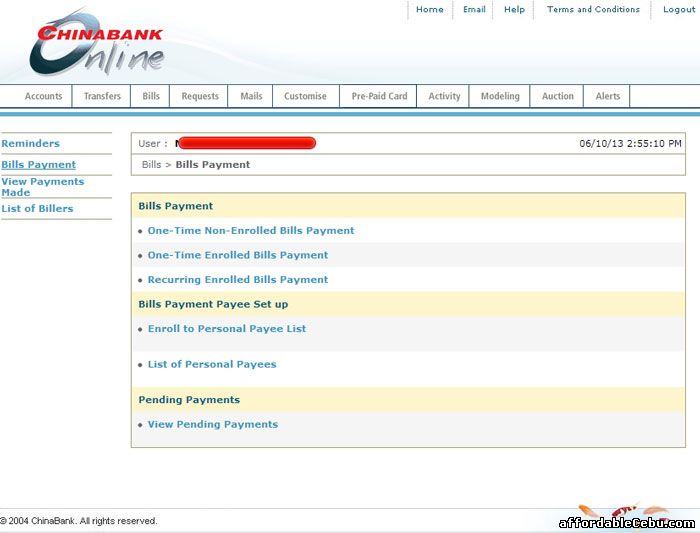 You can buy prepaid card (PIN for eload) for your mobile phone.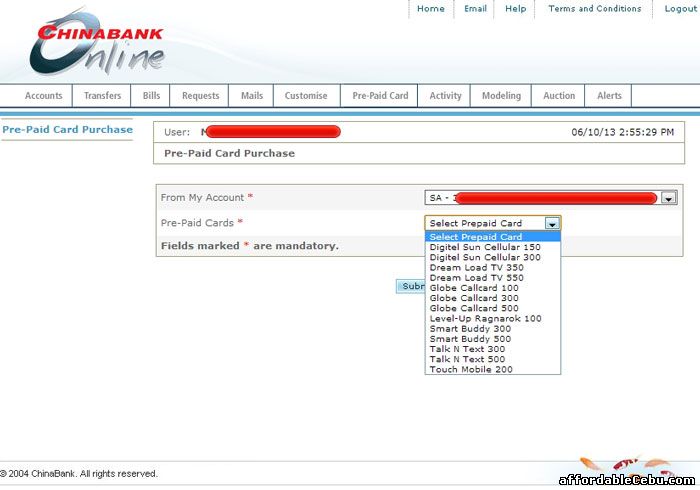 Are you having any problem applying for China Bank's online banking?
Warning! When posting comments, strictly observe correct spelling. Avoid incomplete words such as TY (as Thank You), Pls as Please, gud as good, dpt as dapat, etc. You can comment in English or Tagalog. If you will not follow this simple instruction, your comment(s) will not be accepted or published.