How much is the replacement fee/charge of lost UMID Card?
Even though the initial request of Universal Multi-Purpose ID (UMID) card is free of charge, if you lost it, you will be charged a certain replacement fee. This for the replenishment of the costs of maintaining and servicing the UMID card.



How much is the replacement fee of lost UMID card?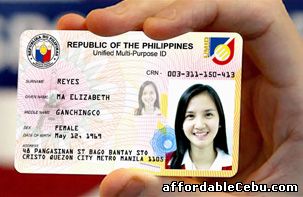 If you can notice, replacement fee of lost UMID card is somewhat more expensive compare to the replacement fee of lost ATM card of major banks which ranges from P100 to P150.
Replacement fee for lost BDO ATM card is P120 while replacement fee for Metrobank ATM card is P150 (as of 2013).
In case you want to
Is the replacement fee of lost UMID card more expensive? or cheaper? What do you think?
Warning! When posting comments, strictly observe correct spelling. Avoid incomplete words such as TY (as Thank You), Pls as Please, gud as good, dpt as dapat, etc. You can comment in English or Tagalog. If you will not follow this simple instruction, your comment(s) will not be accepted or published.
Total comments: 2
0
Spam
1
Maude Rolle
(03 March 2016 11:40 AM)
PLEASE TAKE THIS PHOTO DOWN. I HAVE SENT YOU SEVERAL MESSAGES AND STILL IT IS ON YOUR SITE. PLEASE HAVE SOME DECENCY TO REMOVE PHOTOS UPON THE OWNER's REQUEST. THANKS.
0
Maude Rolle, I'm very sorry. The photo has now been replaced. If you have any other concern, don't hesitate to post in the comment or contact us here in affordableCebu.