Are you used to fall in line in Manila Water Company payment centers to pay your water bill? Haven't you know that there's an easy way to pay your water bill without going to the payment centers and falling in line? At the comfort of your home or office, you can now pay your water bill through Bank of the Philippine Islands online banking facility. Thanks to the power of the internet.
You must be enrolled in BPI online banking facility before you can pay your water bill online. If you're not yet enrolled in BPI online banking, follow the procedures posted in "
How to Apply for BPI Online Banking
".
If you're already enrolled, just follow the steps below on how to pay your Manila Water Company water bill through BPI online/internet banking:
Step 1
Log-in to your BPI Express Online Account. Enroll Manila Water Company as your merchant or biller. To enroll, go to the Main Menu, select Payments & Reloading > Bills Payment > Enroll All Other Bills.

Step 2
Fill out the Enrollment Form by providing the needed information.
Select any ATM Card Number you want to use where the Merchant will be enrolled under. In the Company Name, choose MANILA WATER COMPANY (MWC)(MWC). In the Reference Number field, input your Account Number in Manila Water Company.
Once completed, click the Submit button. Then, a confirmation page will appear after a successful enrollment of the merchant/biller.
You can now pay your Manila Water Bill right after successful enrollment.
To pay your bill, select
Bills Payment >

Pay Bills Today

.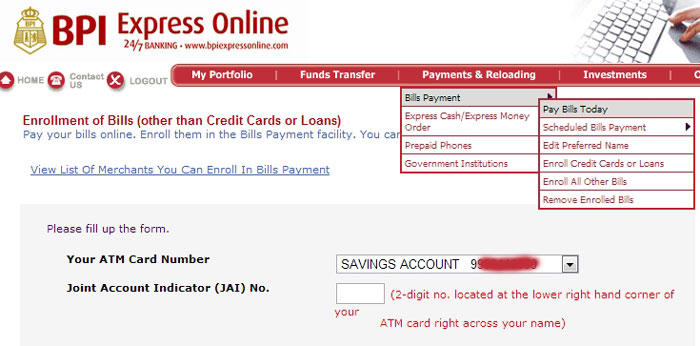 You will be redirected to Bills Payment Form.
Fill out the Payment form.
Input the needed information. Choose Manila Water Company Account from the list of enrolled bills. Enter the amount to be paid. And choose the Source Account where payment will be debited from. You can leave the Reference Number blank.
After successful payment, a confirmation page will appear.
Do you have any concern or problem with your online payment with BPI?