Some PLDT subscribers (you might be one of them) are frustrated with PLDT's paper bill delivery. Believe it or not, PLDT paper bills are often delivered late (I'm one of those who receive the bill late). Why? I don't know how they manage the delivery of those bills. One thing I knew for sure here in our place is that the delivery guy (the one who delivers the PLDT bill) is also the security guard of the PLDT office in our city. And I don't know why he often delivered it late.
If you're like me who wants to avoid the hassle of waiting for the paper bill, I recommend you to sign-up and enroll for a Paperless billing (or PLDT online billing). This system enables you to receive an electronic copy of your paper bill to your email address monthly. So, need to wait for a late delivery guy. If you want to enroll in this Paperless billing system, read this article: "
How to View Your PLDT Bills Online?
".
If you're already enrolled or registered and you want to print your PLDT online bill, you may proceed to follow the steps below:
Step 1
Log-in to your PLDT myHome Account. Go to
Your Account
--> Place your mouse cursor inside the PLDT Account box (the box with gray background). And click the
Manage
link.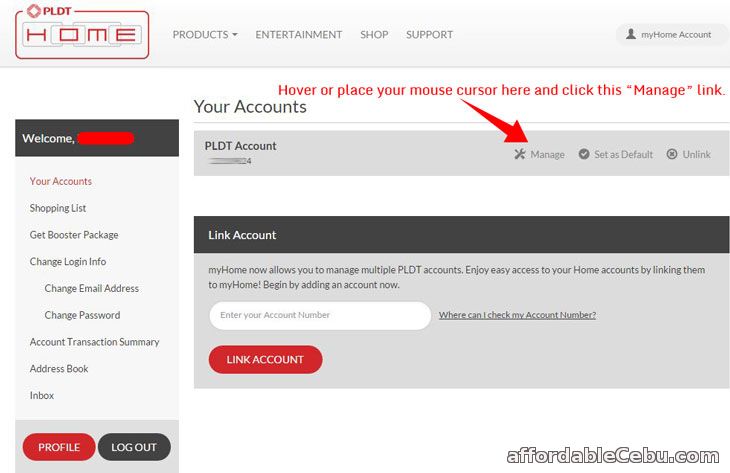 Step 2 
You will be able to see additional sections in the left sidebar. Go to Billing and Payment. Under View Billing Statements box, click the GO link.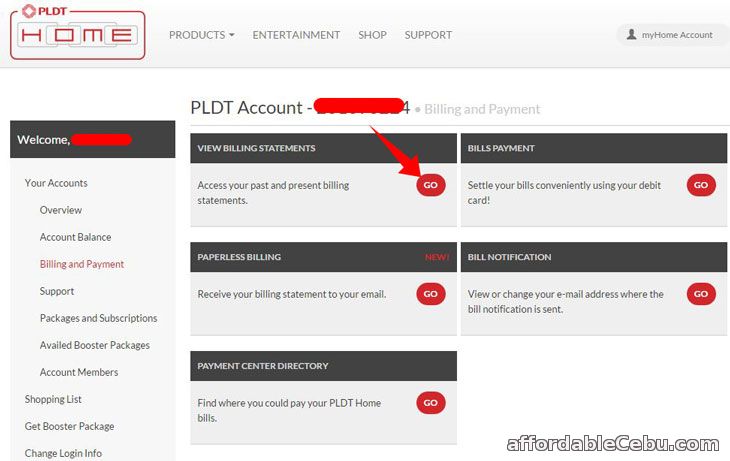 You will be redirected to the View Billing Statements page where you can view your monthly bills as you can see in the screenshot below:
Click the View link to download and view the bill of the month. The bill is in .pdf format. You can view it using pdf reader software such as Adobe Reader or Foxit Reader.
Step 3
To print your PLDT bill, you must open the file (PLDT bill) and in your keyboard, hold press Ctrl and P. Ctrl + P is the keyboard shortcut of print.
PLDT Statement of Account
Some details printed on your online Statement of Account are:
Account Name or Account Owner
Account Owner/Subscriber's Address
Account Number
SOA (Statement of Account) Number
Tips
You can also print the bill by opening the file (bill), go to the Menu bar, click the File --> choose Print. Or thru keyboard shortcut: Hold Ctrl while pressing letter P (Ctrl + P).
​
For future reference, you should save a copy of your PLDT bill to your computer or to reliable hosting provider such as Google Drive. In case you need it in the future (for example you're required to submit a Statement of Billing in applying for loan, credit card, Globe Plan, Smart Plan, etc.), you can easily access it and print it.
Do you have any problem or concern with accessing or printing PLDT bill online?