More payment options means more flexibility and more convenience to the customers. PLDT is smart enough to find ways of connecting to its customers by creating many payment options. It's more convenient than ever before. PLDT subscribers can save time or money by choosing which payment option is most convenient to them.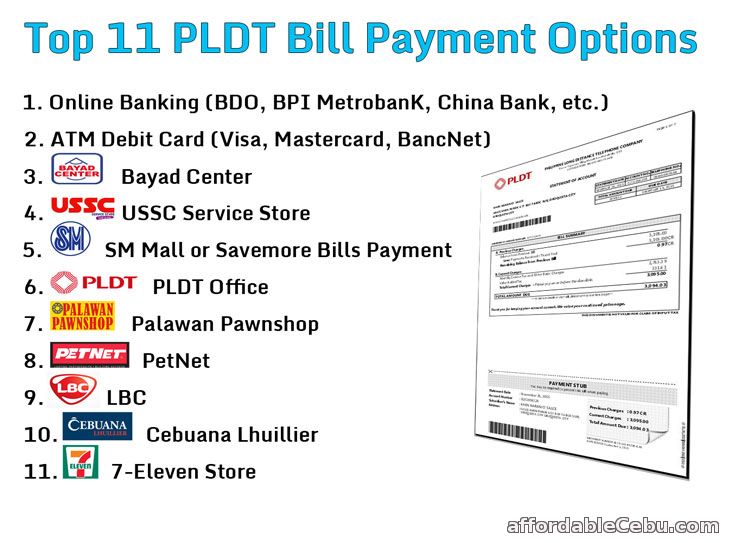 You can pay your PLDT bills through any of the following options:
1. Through a Bank's Online Banking System
Nowadays, online banking is a very convenient way of paying your bills such as your PLDT bill. Popular banks in the Philippines such as BDO, BPI, Metrobank, China Bank, etc. offer online bills payment. You can enroll your bank account to your bank's online banking facility in order to access online banking and pay your PLDT bills online. Such for example is paying your PLDT bill through Metrobank online banking (MetrobankDirect): "How to Pay PLDT Bill thru Metrobank Online Banking?". What makes it more wonderful is that it's free of charge.


2. Through Your Debit Card (with Visa, MasterCard or BancNet logo)
If you have an ATM Debit Card, you can use this to pay your PLDT bill. Your ATM Debit Card should bear either the Visa, the MasterCard or the BancNet logo.




You need to sign-up or register first to PLDT myHome account (

https://my.pldthome.com)

. Registration is free of charge. Log-in to your account and go to your

PLDT Account

-->

Manage

-->

Billing and Payment

-->

Bills Payment.

Pay bill and follow succeeding instructions.




Using your Debit Card, you can also pay through an ATM (machine). You can see on the ATM machine screen the "Bills Payment" menu option. Click on that option.
3. Through any Bayad Centers
Any Bayad Center branch/stores accept PLDT bills payment. So, if you have a Bayad Center in your area, good for you.


4.
Through any USSC Service Stores
There are a lot of USSC branches in the Philippines. So, you may find one in your area. If you are loyal customer of USSC, then you can pay your PLDT bill to them.
5. Through any SM Malls or Savemore branches
If you love shopping at SM Malls, you might take a minute to pay your PLDT bill at the Bills Payment center.



6.
Through PLDT Office
If you want to avoid the long line or queue in the office, come very early or come to the office during Wednesdays and Thursdays. Mondays and Fridays are the busiest days of the week.
7. Through Palawan Pawnshop
8. Through PetNet
9. Through LBC


10.
Through Cebuana Lhuillier Branches


11.
Through 7-Eleven Stores
Make sure you bring your PLDT bill or if you didn't able to bring it, make sure you take note of your PLDT landline number. This is very important in order for the cashier to facilitate the payment.
If the PLDT messenger didnt' send you the PLDT paper bill to your home, store or office, you can view your PLDT bill online: "How to View Your PLDT Bill Online?" and print it.
Do you know other payment options not included in the list above?