---
How to Change BPI ATM PIN Code?
For new BPI (Bank of the Philippine Islands) ATM accountholders, once you apply for an ATM Card, you are given a temporary PIN (Personal Identification Number). BPI recommends you to change the temporary PIN within 2 banking days from receipt of your ATM Card. Why? This is because financial transactions are not allowed until you have changed your PIN.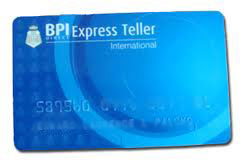 A sample BPI ATM Card photo


To change your BPI ATM PIN, go to any BPI Express Teller ATM and follow these simple steps below:



1.

In the ATM Machine, insert your BPI Express Teller ATM Card.

2. Choose the language: English or Taglish.



3.

Select "Change PIN" from the ATM Menu



4.

Change PIN. You will be required to enter your New PIN twice.



5.

Then, enter your temporary PIN found on the card carrier given to you by the BPI Account Officer. Then press "ENTER"

6. Wait for the confirmation message that you have successfully changed your PIN:

"Successful P.I.N. Change. You may now start using your new P.I.N."

Finished.

Take note: Your ATM Card will be deactivated if you do not change your temporary PIN within 2 banking days from date of receipt. Visit any branch to have your card reactivated. Full ATM services are available 1 banking day after you have successfully changed your PIN.

Warning! When posting comments, strictly observe correct spelling. Avoid incomplete words such as TY (as Thank You), Pls as Please, gud as good, dpt as dapat, etc. You can comment in English or Tagalog. If you will not follow this simple instruction, your comment(s) will not be accepted or published.