---
How to Pay Your Globe Bill Online Thru UnionBank EON Account?
I used to pay my Wired Globe Broadband Internet through my UnionBank EON Cyber Account. You can follow the steps below on how you can also pay your Globe Internet Broadband bill online.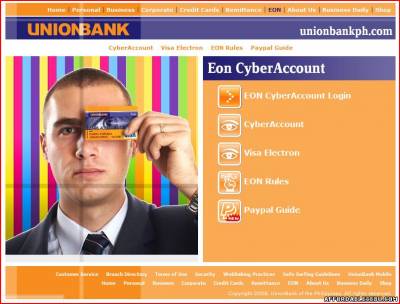 Paying your bills online is very hassle-free. You don't need to go out in your home or office or you don't need to fall in line just to pay your bills. Just a click of a mouse, it's very easy to do online transactions. I can do this with the help of my Unionbank EON Account. If you want to know how to open or apply a UnionBank EON Cyber Account, just read it in my other post:
How to Open a Unionbank EON Account
.
Note: You can also pay your other bills such as electricity, water bills, SSS, Pag-ibig, NSO Birth Certificate and many more.


If you have already a Unionbank EON Card, just follow these simple steps in paying your bills online.
You need to log-in your Unionbank EON Cyber Account (http://www.unionbankph.com).
Click
BILLS
.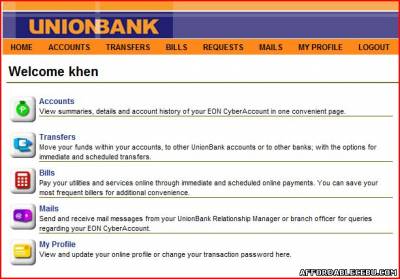 Click Search Biller
You have to find
INNOVE COMMUNICATIONS
as your Biller
.
And follow further instructions. You can pay any amount. In my case, I pay 995pesos. It depends on your Internet Plan, Postpaid or Prepaid.
That's it. If you have any questions, just let me know.
Warning! When posting comments, strictly observe correct spelling. Avoid incomplete words such as TY (as Thank You), Pls as Please, gud as good, dpt as dapat, etc. You can comment in English or Tagalog. If you will not follow this simple instruction, your comment(s) will not be accepted or published.
Total comments: 15
15
Jonavie Limocon-Insao
(24 September 2014 5:52 AM)
Hi! Admin,

Pls advice me with these -what is my transaction password also Payment Remarks? I tried my pin and they not recognized it. How do I know, where should I go? Thank you so much :)
14
GERLIE P.AMORANTO
(20 May 2014 1:10 PM)
we want to know are latest montly bills,cause you (globe) never send us a mail or bill how we pay are bills.
13
ronaldo i medina
(30 April 2013 1:56 PM)
how can i pay my bill w/out any billing statement pls
11
anamarie
(11 January 2013 9:22 PM)
can you send to my email my billing statement for the month of december to january?, account # 843093890.
9
Janelle Bien
(05 March 2012 10:13 PM)
can i pay my bill on installment basis using eon? i lost a job.. but im willing to pay my bill amounting to 16k...but staggered payment cause i just started my new job..
7
Raymond Montera
(04 October 2011 5:21 PM)
How much will cost to pay by online in eon? Eon fee aside from the bill from globe broadband.
Raymond, paying bills using Unionbank EON online is free of charge. No cost.
5
fab
(10 June 2011 9:14 PM)
my internet doesnt come with a phone.. its the internet service only for the cost of 995. the EON page, requires a phone number which i dont have.. how can i bypass this? and if not, what are my options?
4
fab
(10 June 2011 9:05 PM)
my internet service doesnt come with a phone.. because its the internet service only that i subscribed to... and in eon, it a phone number is required, how will i go about this? do i have other options?
I think Globe is processing and updating online bills payment manually. There are days or even weeks delay of payments to appear on Globe online bills. I hope Globe will notice and act on this problem. I'll make an article regarding this problem. Surely Globe will notice it.

1
Dexter
(04 January 2011 1:59 PM)
Hi..thanks for sharing this. I made a payment today (january 4 2010) and upon calling the Globe Customer servce to follow up the payment i made, they havent receive it yet.
Ilang araw kaya bago mag-appear sa system nila base on your experience?
How many days or how long does a payment will reflect in the Billing System of Globe? Usually, it would take 1 day before your Payment will appear in the Billing. You can view your Globe Internet Broadband bills in Globe's website. So far, I didn't find any problem in my online payments with Globe. I checked my bills monthly in their website. I'm paying my Globe Internet Bills since September 2010. All payments I've made are reflected (appeared) in my bills. Globe bills are in .pdf format. You can download it and better to save those bills as your references.
Below my Globe's Internet Bill are the DETAILS OF PAYMENT. If you pay thru online banking, it will indicate in the DETAILS OF PAYMENT Description as by BANK PAYMENT - cash. But if you pay through visiting to Globe's Payment Service Centers or Globe's offices, it will indicate in the DETAILS OF PAYMENT Description as BY CASH.