This is a question and answer portion. One Metrobank client, Maricon asked:
"If I open an account here in Japan can I withdraw money there in the Philippines?"

Answer:
Yes. No matter which branch in the world you opened a Metrobank account, you can use, access, transact (withdraw or deposit) it in any financial institutions in the world affiliated with Maestro, MasterCard, Cirrus or BancNet. You can see the logos of Maestro, MasterCard, Cirrus or BancNet on your Metrobank ATM card. You can withdraw using your ATM card to any ATM machines in the Philippines that bears those logos.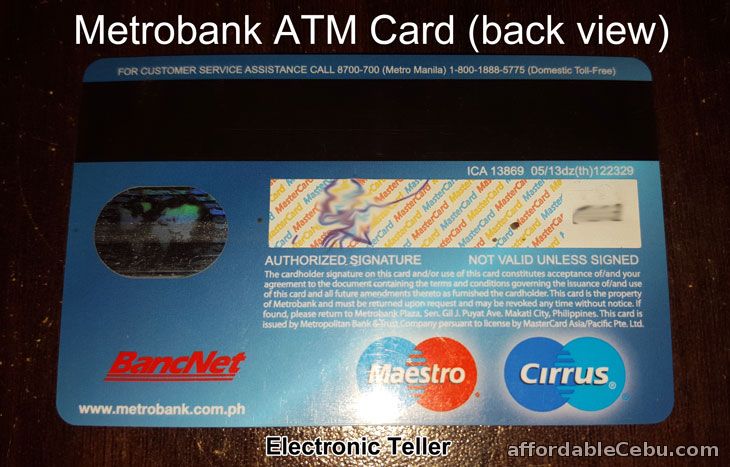 But take note. You should be aware of the ATM fees that other banks charges to you. Most of the banks charge differently.
You can visit the following Metrobank branches in Japan for more inquiries:
Metrobank Tokyo Branch

Address: 1F Kandabashi Park Bldg., 1-19-1 Kanda Nishiki-cho, Chiyoda-ku, Tokyo 101-0054

Email Address: MBTOKYO@metrobank.co.jp

Telphone Number: 03-5281-7281

Fax Number: 03-5281-7282




Metrobank Osaka Sub-branch

Address: 3F Osaka Kokusai Building, 2-3-13 Azuchi-machi, Chuo-ku, Osaka 541-0052

Email Address: MBOSAKA@metrobank.co.jp

Telephone Number: 06-7711-1315

Fax Number: 06-7709-9243



Some common types of account that you can open in Metrobank Japan are Metrobank OFW Peso ATM and Metrobank World Cash Card.
Are you having any problem opening a Metrobank account in Japan? Do you have any problem in withdrawing money in the Philippines using your Metrobank account in Japan?