You're probably wondering if you can use your LandBank ATM card to withdraw money outside the Philippines. Most OFWs working abroad who have LandBank ATM card (with Visa logo) are afraid that their money on their ATM card might be compromised if they use it to withdraw abroad. So, what is the stand of LandBank regarding ATM transactions outside the Philippines.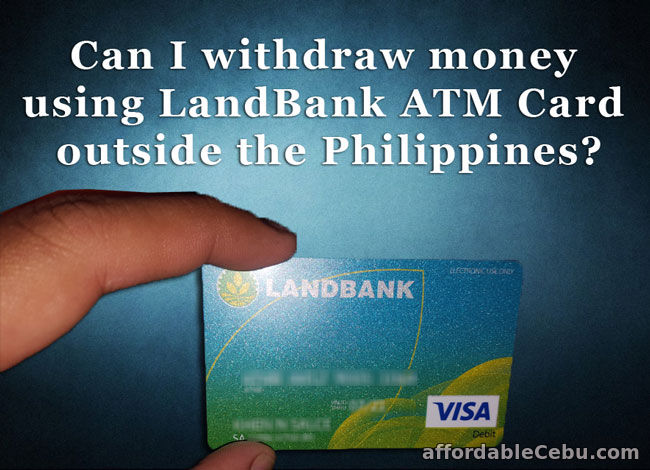 According to LandBank's Terms and Conditions for LandBank Visa Debit Card (LandBank ATM Card):
4. Access to ATM/POS located outside the Philippines, and Web-based application owned by Foreign merchants.

I/We understand that LandBank Visa Debit Card (LVDC) is a peso current/savings account, maintained with the LandBank of the Philippines (LBP). It bears the VISA logo which can be used to avail of or to make ATM/Purchases transactions through any of the VISA member banks and accredited merchants located at the countries outside the Philippines. That any withdrawal/purchase transacted by me/us outside the Philippines through the use of any of the network channels shall constitute disbursement from said account in the Philippines and a remittance to the acquiring banks/merchants where the withdrawal/purchase transaction was effected, and shall, therefore be subject to the applicable laws, governing rules and regulation of both the Philippines and the country where the withdrawal/purchase was made.
So, the answer is clear. You can use your LandBank ATM Card to withdraw on any ATM machines (bearing the Visa logo) outside the Philippines. Likewise, you can also use it to purchase in any merchants (with POS bearing Visa logo) outside the Philippines.

But you should also be aware the corresponding withdrawal transaction fees are being charged to your account.


What if VISA-member banks and accredited merchants outside the Philippines do not accept or honor your LandBank ATM card?

You should not be surprised why some VISA-member banks/merchants don't accept your LandBank ATM card because LandBank declared to their accountholders in their Terms and Conditions:
"...LandBank of the Philippines (LBP) shall be liable if for any reason, such VISA member banks or accredited merchants do not honor the card or it's transaction."


Notes
Cash withdrawal/purchase transactions outside the Philippines using the ATM card shall be in the original currency (Philippine Pesos) which is subject to maximum amount imposed by the LBP and the institution which own the ATM/POS/Web-based application.
Each successful transaction is subject to transaction fees as determined by the LBP and VISA.
The transaction amount and the applicable transaction fee are subject to foreign exchange rate prevailing at the time of the transaction.

Are you having any problem using your LandBank ATM card in withdrawing/purchasing outside the Philippines?